5 Reasons to See a Naturopathic Doctor before Back to School.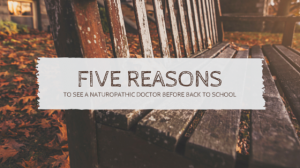 The days are getting shorter, nights are cooling off, and the kids are gearing up for back to school.
Today's blog post is dedicated to the reasons why you should see a Naturopathic Doctor BEFORE back to school.
Guidance in RESETTING YOUR DIET. BBQ's, Ice Cream, sleeping in and skipping breakfast, these are all part of summer, translate well when you need to get up and head out the door to work or school.  Naturopathic Doctors can work with you to ensure your meals are balanced with the right amount of protein to keep your energy balanced for work or school
Developing manageable a STRESS MANAGEMENT PLAN.  Regardless if your stress comes from additional tasks in the workplace, or the adjustment to school activities, or homework, prevention is key to maintaining good health.  Whether it be diet, supplements or just additional lifestyle practices like meditation, your Naturopathic Doctor can get you on the right track.
Develop a new ROUTINE, as mammals we are creatures of habit.  All our bodies hormones follow daily rhythms and patterns, which tend to shift according to light and other external input. With shorter days and less sunlight our bodies may need a bit of additional support.
Prepare yourself for COLD AND FLU SEASON, it's inevitable as the weather cools and kids get back to school germs spread, resulting more illness.  Your Naturopathic Doctor can help educate you on ways to prevent illness or ways to treat naturally should something occur.
You want this to be your HEALTHIEST YEAR EVER.  Maybe this is the year where want to loose 5 pounds, get straight A's or make it through the winter without any dips in your mood. Your Naturopathic Doctor can help you to achieve these goals through an individualized treatment plan.
Contact me at 519-426-4275 to schedule your appointment today!