Are you missing out on the benefits of magnesium?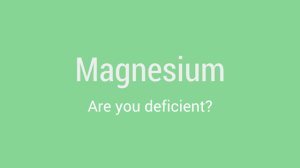 Magnesium is involved in more than 300 metabolic reactions in the body, so deficiency can be a huge impact on your life.  Magnesium plays an important physiological role particularly in the brain, heart, and skeletal muscles.
Key Functions of Magnesium
Regulates Calcium

Relaxes Skeletal Muscle

Energy Production

Regulates Heart Contractitility

Relaxes Smooth Muscle
Common Signs of Magnesium Deficiency
Arrhythmia
Muscle cramping
Anxiety
Fatigue
Nausea
Top Dietary Sources of Magnesium
tofu

 legumes

whole grains, wheat bran

green leafy vegetables

Brazil nuts, soybean flour, almonds, cashews,  pine nuts, and black walnuts

blackstrap molasses 

pumpkin and squash seeds
Before considering supplementing with magnesium speak with your Naturopathic Doctor, as there are several different forms of supplemental magnesium, each of which has a specific function, it's not one size fits all.
References:
Source: Magnesium | University of Maryland Medical Center http://umm.edu/health/medical/altmed/supplement/magnesium#ixzz3ZI8kabrT