Infant foods – beyond the mush
Most of my blog posts are inspired by topics that I see in clinical practice, but this blog originates from my family life. My son is 10 months old, and I'm not sure where the time has gone.
Over the past few months since the introduction of solid foods, I have spent a great deal of time researching food introduction and methods of infant feeding. I was always a bit unsure of the whole mushy baby food industry, so naturally I planned made my own "baby food" focusing on hypoallergenic, easily digestible, iron rich options.
I found that my son was often reaching toward pieces of food on our plates. This brought me to the discovery of the topic of "baby lead weaning". 
By definition of "baby led weaning" is an alternative method for introducing complementary foods to infants in which the infant feeds themselves hand-held foods instead of being spoon-fed by an adult. The BLW infant also shares family food and mealtimes and is offered milk (ideally breast milk) on demand until they self-wean.
Some of the benefits that research has been found for baby led weaning include:
the acceptance of a variety of textures and flavours
allows for energy regulation (prevention of childhood obesity)
inclusion of baby in family mealtimes
This being said BLW is not for every family, and should be discussed with your health care professional.  In many cases BLW is done in addition to some traditional spoon fed foods.
I am also very happy with the recent changes to Health Canada's food introduction guidelines to include iron rich meats and alternatives earlier. For more on this check out
Health Canada Food Introduction Guidelines
.
Contact me for more information on baby led weaning and infant food introduction.
Below you will see my son enjoying steamed sweet potato, and local chicken sausages.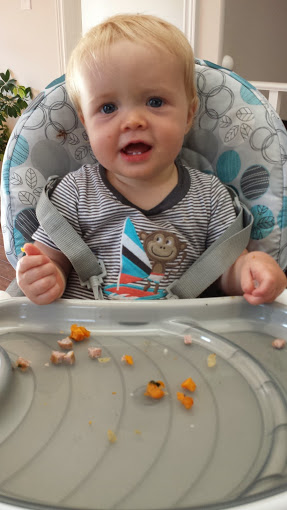 BLW is not for the faint of heart when it comes to messes, we are lucky we have our family dog who helps to make for light work. Happy Eating!
References: Cameron SL, Heath A-LM, Taylor RW. How Feasible Is Baby-Led Weaning as an Approach to Infant Feeding? A Review of the Evidence. Nutrients. 2012; 4(11):1575-1609.