New Year – New Health Goals
After a two month break from blogging to spend some time with my new addition to the family, a healthy little boy, I'm back.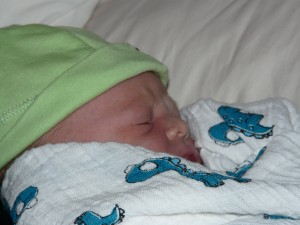 Rather then focus on a health topic for this blog I thought I would share some of my health goals for the New Year.  As with most things, putting goals down on paper, or in this case online will make it easier to stick to.
I have organized my health goals into months, in order to not be overwhelmed, also with the thought that it takes "21 days" or 3 weeks to create a  habit. So here goes!
January – Elimination Diet – This will be the third year in a row that I have started the year with an elimination diet, it is a great way of starting fresh after the holiday indulgences. I will create a blog detailing an elimination diet, but basically it involves eliminating many food groups that commonly cause hypersensitivity responses.
February – In honour of heart month rather then focus on the physical aspect of heart health, my goal is to spend a minimum of 5 minutes per day doing an activity that promotes relaxation.  That may be yoga, breathing exercise, mediation, or visualization it will depend what I can fit in.
March – Nutrition Month I'm really excited about this goal because I love cooking.  So for each week in March I plan to try a new recipe with a new ingredient or one that I don't usually use.
April – Since my best friend is a dental hygienist and National Dental Hygienist week happens to be in April, my goal is to floss daily.  I'm usually pretty good at this practice but this way I will be 100% committed.
May – I dedicate May to ramp up my hydration for the increasing temperatures of the summer months.  Starting the day with a large glass of water with a fresh squeeze of lemon for digestion.
June – For Recreation Month my goal is to walk for at least an hour per day, for me I'm sure  my dog will keep me honest, because otherwise his barks will let me know.
July –  In honour Canada Day my goal is to find something each day to be thankful.  After all living in Canada we have so many opportunities and resources to be thankful for.
August – Since there is so much fresh local produce available during the month of August, my goal is to have a fresh smoothie each day of the month.  I'm excited to try a variety of fruits and vegetables in these smoothies.
September – Although I'm not longer going "back to school", I have always enjoyed reading, so my goal is to read a book for pleasure for a few minutes each day in September.  With a sister who is a librarian, it shouldn't be to hard to find some bestsellers to read.
October – Breast Health Awareness is often the important topic of the October.  My goal is to get involved with raising funds for Breast Cancer Awareness, as well as making sure my patients have all the information they need to help prevent breast cancer.
November – Since  this month marks the one year birthday of my little munchkin, and the expansion of my family. My goal be thankful for my family and all they do for me, and what I learn from them.
December – I dedicate December to "keep the routine".  During the holidays it can be easy to slip out of routine and wait until the new year to get back on track.  For me this doesn't just mean eating and exercise, I often find that the lack of sunlight leaves me feeling a bit out of sorts. By having a routine my energy levels are higher and I can enjoy the holidays.
Cheers to the New Year everyone.