Is stress giving you a spare tire? Part 1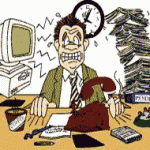 Weight loss is a common goal for many individuals in this day and age.  Many individuals embark on diets and exercise routines in many forms to help maintain or lose weight.  The goal of this blog post is to look at chronic stress and the players which effect weight maintenance.
Many of us can recall from high school science the importance of "homeostasis" the body ability to maintain balance.  Many examples of homeostasis exist within the body from temperature control, acid base balance of blood as well as the topic we are discussing today stress response.
Much of what we know about stress today comes from the research of Canadian physician and researcher Hans Selye who coined the term general adaptation syndrome (GAS) – appropriately named as many who suffer from chronic stress feel like they are out of "gas," literally.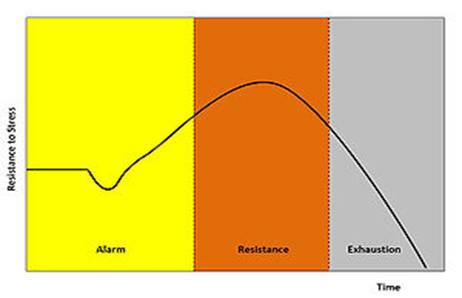 The general adaptation model of stress shows that the initial alarm phase of stress is followed by a period of resistance and finally exhaustion. Traditionally the body only had to deal short term stress utilizing the "fight or flight" response. In this response there would be an acute release of epinephrine and nor-epinephrine, as well as cortisol which would allow the bodies sympathetic system take over and blood flow to be increased to the peripheral vessels.
Cute Video Depicting "Fight or Flight" Response
Busy modern society has resulted in a lot more chronic stress. There is increasing evidence that chronic environmental stressors may play an important role in increasing individual susceptibility towards the development of chronic metabolic diseases, such as abdominal obesity and the metabolic syndrome.
Cortisol is one of the key hormones that is secreted in response to stress, under normal conditions cortisol raises progressively over night, peaks in the morning and falls throughout the day.  During the resistance phase of chronic stress, cortisol levels of remain elevated and as result the body struggles to maintain balance.
Excess amounts of cortisol result in release of lipoprotein lipase a potent fat storing hormone resulting in the body to make more fat cells. Other hormones that are affected by this increase in cortisol is insulin, which is the way of shuttling available glucose into the cells to respond to stress. (More on insulin in part 2)
The exhaustion phase of the stress response is sometimes referred to "adrenal fatigue".  Since the adrenal glands are responsible for the production of many of the stress response hormones this is an appropriate name, for a state in which your body is not longer able to adequately produce the hormones needed to respond to stress.
Part 2 will discuss the role of insulin in the development of metabolic syndrome, and the risks related to long term stress.